Behind the Scenes
Contest Producers 
Contest promoters Kevin Harris and Monty Little are once again teaming up with the Cloverdale Rodeo & Country Fair to bring you the 7th Annual WORLD Freestyle Round-Up. The vision they share with co-founder Kai Dunkel is to create a fun, energy packed annual contest that will put Freestyle Skating back in the forefront and help move the level of competition up a notch or two. Although Kevin and Monty are the driving force behind the event, they are joined by a very talented group of volunteer web site designers, graphic artists, DJ's, MC's, audio and video technicians, and skateboarders who all share the same goals: to run a top-notch event that everyone will remember.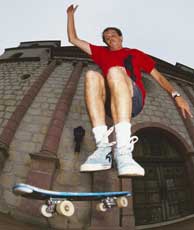 Kevin Harris – Kevin turned Pro in 1982 becoming Canada's first Professional Skateboarder and is still rated as one of the top freestylers in the world. He owns and operates Ultimate Skateboards, Canada's first and largest skateboard distribution centre, and started Canada's first skateboard magazine, Concrete Skateboard Magazine. The legendary Richmond Skate Ranch which helped launch several of Canada's top pros was also owned by Kevin, and he was a co-owner of the RDS Skatepark. A member of both the famous Ripping Squad and the Bones Brigade skateboard teams, Kevin is known for his fluid skating style, incorporating complex variations with exceptional foot work . He also helped start and promote the highly successful "Slam City Jam" which put Vancouver, B.C. on the map as a Mecca for skateboarders. With Kevin's success in both skateboarding and the business world he once again brings his knowledge to the table as one of the producers of the WORLD Freestyle Round-Up.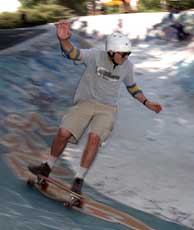 Monty Little – We are very excited that Canadian Skateboard Icon Monty Little is back at the helm again organizing the 7th Annual WORLD Freestyle Round-Up. Besides co-founding CASA, the Canadian Amateur Skateboard Association, he has run hundreds of skateboard safety clinics and contests across Canada. In 1986 he was approached to run skateboard demo's for the World Fair at EXPO 86. Monty went one better by organizing the first true World Championships with 20 amateur teams and pros from 16 countries competing at the Transworld Skateboard Championships. He has also been instrumental in designing several skateboard parks in Canada including lobbying for Canada's first community skateboard park in 1977 and putting together the first Canadian Skatepark Guide. A youth advocate for Canadian skateboarders, he also has over 30 years of service as a Boy Scout leader. Monty's organizational skills plus 20 years in the advertising and promotions field make him a key player on our contest production team.
Contest MC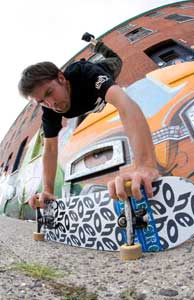 Keeping the crowd excited and informed falls on the shoulders of the event's MC. We are very pleased to have professional skateboarder AJ Kohn back again for his sixth year as the event MC.
AJ has been MC'ing events for over 16 years, including the legendary Beast of the East Grom Contest Series, the 2010 World Championships of Freestyle in Philadelphia, and many other skateboarding events. He has organized and competed in events all over the globe and is ranked one of the top 5 professional freestylers in the US. A featured skater in many skateboard magazines, he is also a contributing writer for several publications. AJ is a dedicated youth advocate, developing inner-city youth programs and teaching skateboarding after school. He developed and performed in the first national Skateboard Science tour in 2013, and continues to perform in STEAM based edutainment to this day. He has designed new skateboard products, built skateparks, raised money for various charities . . . you might say he is a true Renaissance Man of the skateboarding world.
www.theskateboardacademy.com        www.ajkohn.com        www.mobileedproductions.com
Head Judge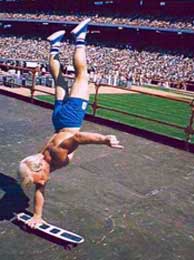 We are very fortunate to have professional skateboarder Russ Howell back again to fill the position of Head Judge at this year's WORLD Round-Up. One of the most demanding rolls at any contest is heading up the judging committee. Russ has an incredible understanding of the basics of Freestyle and has been a judge at numerous CASL and IDASL amateur events, as well as judging for NSA professional contests. He is one of the founding fathers of Freestyle, and many of his signature handstand tricks are staples even today. As an active freestyle competitor for many years, he holds the world record for 360's, with 163 spins and the Guinness World Record holder for the longest stationary handstand on a skateboard.
Russ is the sports most enduring ambassador, promoting freestyle around the world, and making TV appearances on Johnny Carson, Good Morning America and Tom Snyder. A cowboy at heart, Russ is really looking forward to being part of the World Round-Up again this year at the Cloverdale Rodeo & Country Fair.
Daily Contest Coverage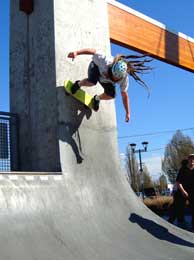 For those of you who are unable to attend this years contest, we've got you covered. CHANNEL 4 NEWS may have Anchor Man Ron Burgundy, but we have Hippie Mike, who will be bringing you daily coverage of the World Freestyle Round-Up. Mike did an excellent job the last 6 years capturing everything on video, including short interviews with each contestant. He will be doing the same this year, which we will feature in the WHAT'S NEW section on our web site.
An avid skateboarder for 30 years, Mike is also the owner of Protest Skateboards. He was a major influence in the establishment of the Chuck Bailey Skatepark, Surrey's first covered outdoor skatepark, and has assisted in the creation of other skateboard parks. When he's not giving skateboard lessons he is running awesome contests like Hippie Mike's Super-Tour, a skateboard contest which focuses on raising donations for local food banks. So roll up your sleeves Ron Burgundy, because Hippie Mike is covering the action on the news desk.
www.protest-movement.org    www.protestskateboards.com
Contest Photographer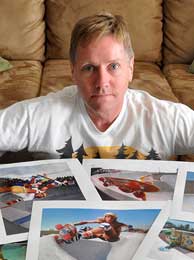 Jim Goodrich, world-renowned photographer and journalist and a Florida Skateboard Hall of Fame inductee is back again this year to cover the World Freestyle Round-Up.
Jim started his photography career shooting photos of his skate buddies, many of which were top skaters in the Southern California area. His skills behind the lens soon landed him a position as a staff photographer at SkateBoarder magazine in 1978. That experience took him around the world covering the skate scene and made him a central figure in the scene himself. In 1980, Jim became the manager and team coach at Gullwing Products and experienced the sport from a manufacturer's viewpoint. Then, in 1985 TransWorld Skateboarding magazine hired him as their managing editor.
Jim has since moved on but can still be found at skate events with camera in hand to capture what continues to be an important part of his life. Drop by and see the SKATEBOARDING LEGENDS COLLECTION booth, featuring some of Jim's best photos.